Article originally posted on www.erieinsurance.com

(opens in new tab)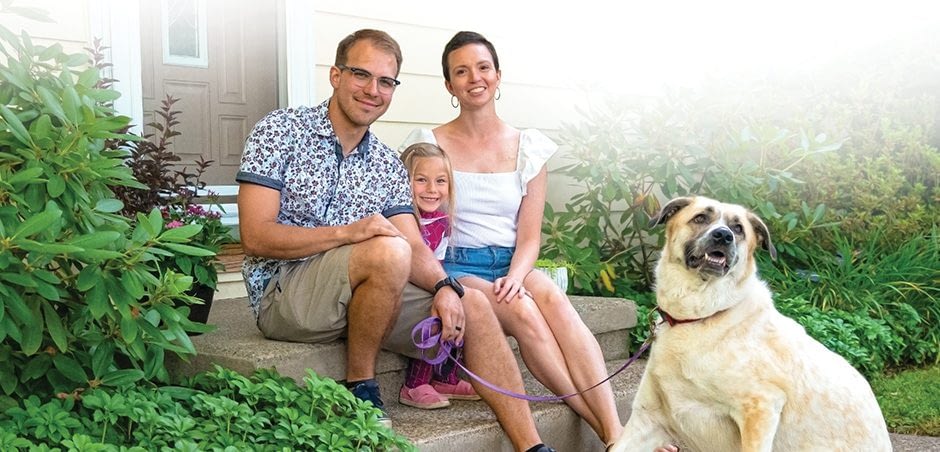 When you're young, you feel invincible – like nothing could ever hurt you. You're less likely to consider life insurance, even though this is the prime time to get it. However, you never know what's going to happen, and in my case, I'm happy I was prepared.
Life-Changing News
It was a sunny Saturday in August when I received a diagnosis that would turn my world upside-down: Invasive Ductile Carcinoma In Situ. Otherwise known as breast cancer. Triple Positive. As a 29-year-old woman who was otherwise healthy with no predisposition or family history, this diagnosis was a huge shock.
After that, things sped up and I quickly established a course of treatment with a very high response rate. Knowing I had a solid treatment plan and an incredibly huge and amazing support team of family, friends and coworkers, I headed into chemotherapy ready to kick cancer's butt. (I won't hold you in suspense: I'm happy to report I'm in remission and doing very well!)
One extra thing I had that brought me peace of mind was knowing I had an ERIE life insurance policy with a Guaranteed Insurability Option rider (GIO). You see, in the last two years I'd done a lot: gotten married and bought a house. One of my first thoughts after my diagnosis was making sure my husband and step-daughter would be okay if something happened to me.
The Things That Matter
It seems like a no-brainer to get insurance for your car and home (or apartment) but life insurance is a lot harder to discuss. Trust me, I get it. Most of us are so focused on living, we don't think about (and don't want to think about) what would happen if we weren't here anymore. But I'm here to tell you that now is the right time to get life insurance – when you're young and healthy.
More than your car or your house, your life is your most important asset. So why don't we protect it more? Life insurance can be confusing. This article with tips on buying your first life policy might be helpful if you're looking for somewhere to start.
Protecting My Loved Ones
Working for an insurance company definitely made me more inclined to get life insurance. I've worked for Erie Insurance since 2013 and was convinced by my agent to get a term policy in 2017 after moving into my first apartment.
As a 25-year-old woman, I got a 30-year term policy with the GIO rider, meaning the great rates and good health I'd been in were locked in for me. (I did have to get a paramedical exam, which was way easier than I expected.) I had no idea that getting the GIO rider when I didn't need it would work in my favor less than five years later. After buying my home at age 27, my agent helped me get a second 30-year term policy totaling $200,000 worth of coverage.
It's so affordable: I pay less than $40 a month for two 30-year term policies.1
Coverage That Gives Peace of Mind
I'm doing very well after completing the big milestones of my treatment – chemotherapy, surgery and radiation – but cancer would have had a huge impact on my insurability had I not already had a policy. (And it probably would have been pretty expensive – yikes!) Now I can focus on staying healthy knowing I can increase my coverage in the future and it'll be easier on my wallet.
Lock in your peace of mind today with a Guaranteed Insurability Option rider and life insurance with ERIE. Contact us today to talk about what type of life insurance is right for you.
Alexandra Witkowski is a marketing communications consultant working at Erie Insurance.
1Rates will differ based on selected term, policy type and individual rating criteria. Guaranteed Insurability Option rider is subject to underwriting approval. Not available on all plans. Issue ages 0-40. The opportunity to add coverage is available when certain qualifying life events occur. Talk to your Agent for rider specifics, option dates, availability, terms and conditions. Additional cost applies. The original purchase of GIO rider is subject to underwriting. ERIE® life insurance products and services are provided by Erie Family Life Insurance Company (home office: Erie, Pennsylvania). Erie Family Life Insurance Company is not licensed to operate in all states. Go to erieinsurance.com for company licensure information.

A better insurance experience starts with ERIE.
Haven't heard of us? Erie Insurance started with humble beginnings in 1925 with a mission to emphasize customer service above all else. Though we've grown to reach the Fortune 500 list, we still haven't lost the human touch.
Contact Edinburgh Insurance today to experience the ERIE difference for yourself.
Filed Under: Life Sense
|
Tagged With: Life Insurance