Article originally posted on www.erieinsurance.com

(opens in new tab)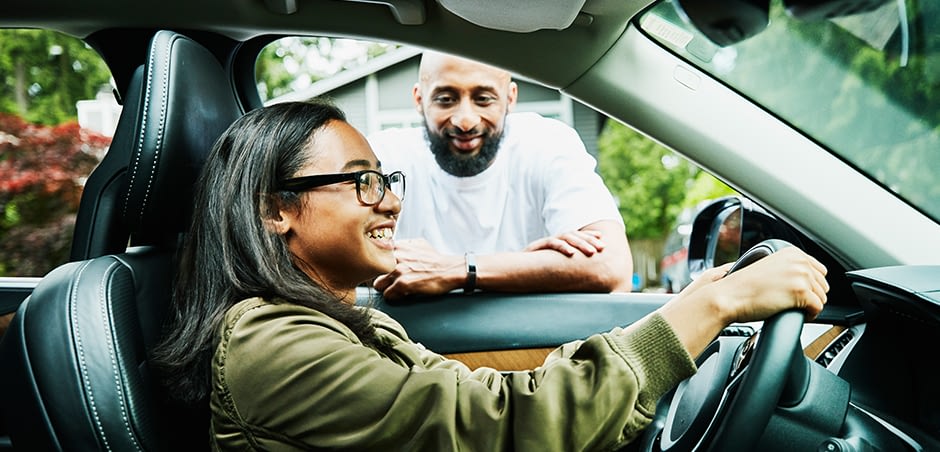 There are the exciting parts to growing up: buying your first car, furnishing an apartment to your specific style and that moment when the waitstaff doesn't card you. Then there's the not-so-exciting part: the realization of how expensive the world is once your parents stop footing the bill. I'll be on my parents' phone plan as long as they'll have me, but when it comes to other "adult" expenses, like insurance, you're probably wondering how long you have before you get kicked off.
If your parents have Erie Insurance for their home or auto needs, you might be happily surprised that you can keep that coverage, whether staying on their auto policy a little longer or simply sticking with the same independent ERIE agent, to help you with your insurance needs.
Can a 26-Year-Old be on Their Parents' Car Insurance?
As your resident 25-year-old working in insurance, the good news (at least for us) is that unlike health insurance, there isn't an age limit that prevents someone from staying on mom or dad's insurance. However, when you permanently move out and change your address or you purchase your own vehicle, you'll need your own insurance policy.
Do I Need My Own Insurance Policy When I Go to College?
If you're bringing your car to campus, whether it's a few hours or states away from home, you can remain on your parents' auto policy so long as you aren't permanently moving to your college town. However, if you plan on making your college town your new home, see the next question.
Can I Stay on My Parents' Car Insurance if I Move Out?
Short answer: no. If you're moving into an apartment or buying your own home, and have your own vehicle, you'll need to have a new policy under your name. The plus side? You can bundle that auto policy with your home or renters insurance for extra savings.
What if I'm Living at Home?
There's no shame in saving some dough and living with your parents, and an additional bonus is you can stay on their auto policy.
Is it Cheaper to Stay on Your Parents' Insurance Policy?
There are a lot of factors that go into determining your auto insurance rates, like your car's safety rating, your individual driving history and your age. Sometimes staying on your parents' policy means you might have access to a few of their discounts, like a multi-car or multi-policy discount. However, that's not to say you don't have discounts to consider if you do get your own policy. Read more about ERIE's affordable car insurance and quality coverage options.
Do I Need My Own Insurance Policy When I Buy a New Car?
Depending on the state you live in, you may be required to have both the car's registration and auto insurance under the same name. This way it's easier for insurance companies to process a claim. If you're still insured under your parents' policy, the name of each driver should be listed on that policy. However, if you are planning on buying a new car – and purchasing it in your name only – you'll have to get your own insurance policy, too.
Can I Drive My Parents' Car, or Vice Versa, if I'm Not on Their Policy?
The answer to the question is yes, on occasion. If you are regularly driving your parents' (or even a friend's) vehicle, it's important to let their insurance agent know so they can add your name to their policy. However, if you just borrow it on occasion, ERIE's policies cover certain drivers when they are out on the road. Read more about insurance coverage when lending out your car.
Do I Need Renters Insurance if I Live with My Parents?
The owner of the home – your parent – should have homeowners insurance to cover the cost of property damage from an accident. That coverage is based off what your agent and parents agreed was the right value of their home (or the future market value).
What to Do If You Need Your Own Car Insurance
Do your homework, get some quotes and talk to your neighborhood Erie Insurance agent to get the right auto coverage to fit your needs.
ERIE® insurance products and services are provided by one or more of the following insurers: Erie Insurance Exchange, Erie Insurance Company, Erie Insurance Property & Casualty Company, Flagship City Insurance Company and Erie Family Life Insurance Company (home offices: Erie, Pennsylvania) or Erie Insurance Company of New York (home office: Rochester, New York). The companies within the Erie Insurance Group are not licensed to operate in all states. Refer to the company licensure and states of operation information.
The insurance products and rates, if applicable, described in this blog are in effect as of July 2022 and may be changed at any time.
Insurance products are subject to terms, conditions and exclusions not described in this blog. The policy contains the specific details of the coverages, terms, conditions and exclusions.
The insurance products and services described in this blog are not offered in all states. ERIE life insurance and annuity products are not available in New York. ERIE Medicare supplement products are not available in the District of Columbia or New York. ERIE long term care products are not available in the District of Columbia and New York.
Eligibility will be determined at the time of application based upon applicable underwriting guidelines and rules in effect at that time.
Your ERIE agent can offer you practical guidance and answer questions you may have before you buy.


A better insurance experience starts with ERIE.
Haven't heard of us? Erie Insurance started with humble beginnings in 1925 with a mission to emphasize customer service above all else. Though we've grown to reach the Fortune 500 list, we still haven't lost the human touch.
Contact Edinburgh Insurance today to experience the ERIE difference for yourself.
Filed Under: Car Sense
|
Tagged With: Auto Insurance